That anyone even sticks with standup comedy is remarkable because it's rough, especially in those early days when you are a nobody who stands on street corners handing out flyers to get people to come to your shows, you leave pretty much every one of your gigs making nothing (or maybe $10 if you are lucky), and you bomb a lot more than you kill.
It's a slog, but every successful comedian has been through it and gotten better because of it, including Pete Holmes, who truly captures the reality of starting out in standup in New York City in his new HBO series Crashing, which premieres on February 19 and centers on a fresh-faced comedian trying to get a foothold in the business while coping with the collapse of his marriage. "I'm excited to represent my people—comedians," Holmes tells Co.Create, "and show a little bit of the struggle. Hopefully, that will be encouraging to people that are starting out."
Holmes, who is known for his You Made It Weird podcast and comedy specials like last year's Faces and Sounds, which aired on HBO, came up with the idea for Crashing after his TBS late-night talk show, The Pete Holmes Show, was cancelled in 2014. "I really had a quiet moment of reflection and thought, 'What story do I want to tell? What are we really doing on earth? What can I contribute?' And I was like, 'Well, I can tell a story about a religious guy who married the first girlfriend he ever had, and then she leaves him for another guy, and then he gets kicked into the deep end of New York City comedy.' That was the conceit," Holmes explains, "and then the engine of the show hit me when I was in my car. I was like, 'Oh, and on every episode he could be staying on the couch of a different comedian!' "
That premise has roots in reality. "I did get married young. My wife did have an affair and leave me. But other than that, everything was changed to make it, frankly, a better and funnier and more interesting show," Holmes says, noting the day-to-day life of someone going through a divorce isn't necessarily fascinating. "There's a lot of drinking alone, watching movies, eating Chinese food and sleeping all day."
Crashing is executive produced by Judd Apatow, whom Holmes credits with showing him how to use the emotions he felt back when he was going through all that turmoil to inform the fictional storylines that make up the show. To wit: There is a yard sale that didn't happen in real life but happens on Crashing—at Apatow's suggestion—that finds Pete on a quest to save his possessions after he learns that his soon-to-be ex-wife is going to sell their stuff to strangers.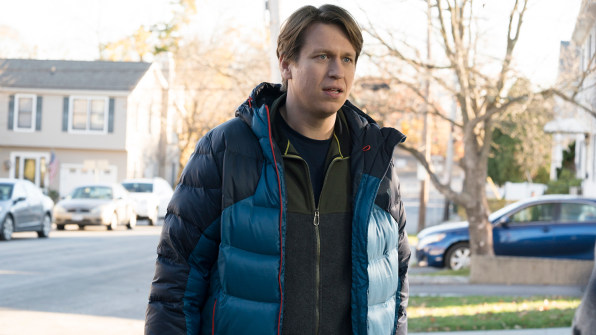 Pete's ex-wife, who is called Jessica on the show, is played by Lauren Lapkus of Orange Is the New Black fame. This isn't a documentary, so Jessica is a fictional character, and Holmes wrote the part specifically for Lapkus. Holmes has not spoken to his ex-wife since they split, but he stresses that Crashing "is not a revenge fantasy. It's not like, 'Ha, ha! I have a show!' I hope if she sees it that she sees that I understand. It's kind of this exercise in, 'I get it, and I understand that you wanted more out of life, and you tried.' I tried very, very hard to make her character three-dimensional, funny and relatable because—this is something I've said on my podcast many times—if you were watching a movie about my wife being married to me, you would be rooting for her to leave. It's not because I was a bad husband. I think I was a great husband, to be honest. I just wasn't for her, and that's okay."
"It was this difficult, tricky, sad experience, but it actually ended up making me a lot wiser and complete as a person," muses Holmes, who is giving marriage another shot—he recently got engaged.
In Crashing, we see Pete turning to his friends in comedy, including the likes of Artie Lang, Sarah Silverman and Hannibal Buress, who play themselves on the show, for support, depicting the camaraderie that can be shared by comedians, who make up one of the more dysfunctional but loyal families in show business. "I'd be lying if I said there wasn't some competition, but there really is a very nurturing and familial feel to the comedy scene if you're not a dick," Holmes says. "Bill Burr gave me this great advice when I started. He said, 'Keep your head down. Don't be a dick, and you'll get in.' And he meant getting accepted by the crew, and he really was right."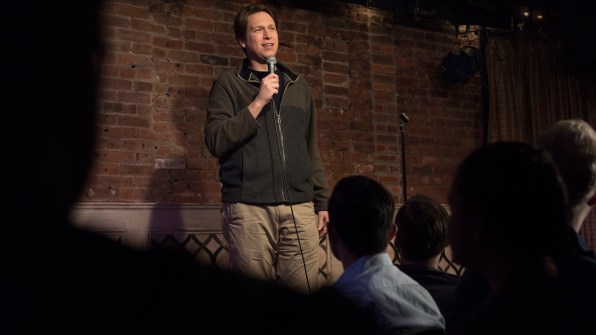 The morning after Holmes' real-life wife told him she was leaving him, the first person he called was Nick Kroll "because Nick was—and is—just one of those connected people who knows everybody and has his finger on the pulse of New York, and I asked him if he knew anyone that had an apartment and was looking for a roommate. He didn't, and then I called John Mulaney. Mulaney and I were kind of friends. We'd see each other every once in awhile, and then I got divorced, and we'd see each other several times a week. We'd go to brunch every Sunday. Mulaney was very helpful. I remember I said, 'Aren't I supposed to be funnier? My wife broke my heart.' And he goes, 'Pain gets in the way. It doesn't help,' " Holmes recalls. " 'The idea of the tortured artist going on stage and killing it when he's heartbroken—maybe that's in poetry or something. It's not standup.' "
T.J. Miller, who guest stars as himself on Crashing, was also there for Holmes. "T.J. Miller was huge. He was living in L.A. at the time, and he came to Pittsburgh to film a movie, and he had me come out, and he put me up in the hotel where he was staying, and he was really one of those great friends that gave me tons of advice, some of which is in the show—T.J.'s in the third episode. We would order tons of room service, and I smoked pot for the second time in my life with him, and we'd go to The Andy Warhol Museum. He just really helped me keep my mind off of it and told me I was going to be okay," Holmes says. "It's so funny that T.J.'s kind of like a wild guy in public. He seems funny and crazy, but in reality, he's such a thoughtful and sweet person that was like, 'You have to come stay with me for a week. We're going to fix this. We're going to fix you.' "
Does Holmes think he would be a different performer now if he hadn't gone through a divorce at such a pivotal time in his development as a comedian? "That's a great question. It's the sort of thing that could keep you up at night," he says before deciding, "My gut says no."
The split did make him more invested in his comedy career, though. "I have to be careful that I don't sound like this proponent for divorce, but there was something about who I thought I was as that husband. [My ex-wife] wasn't like some sort of TV cliché that would nag me, or want me to stay home, but I wanted to stay home. I wanted to be with her and watch movies on the couch," he reflects, "and then once we split, it was just like you're staring down the barrel of a long 24 hours every day, so you better believe that you're going to start doing more shows, saying yes to everything. Literally, everything that was offered to me just became an instant yes because the alternative was just sitting in a sad apartment alone. You really learn what you're fighting for."
"I know that sounds dramatic," Holmes says, "but once you feel pain and sadness, you realize how important comedy and joy can be."