Lego is having a major cultural moment right now. It recently became the most profitable toy company in the world, the blockbuster The Lego Movie was released this winter, and it seems as though the bricks and minifigures are popping up everywhere: movie posters and album covers are being rendered in bricks by fans; the infamous Ellen Oscars selfie received not one but two Lego treatments; and block versions of nearly every relevant entertainment property exist, including, most recently, The Simpsons. That's to say nothing of this travelogue of a tiny minifig photographer, which just might be one of the most endearing and artful fan tributes we've seen.
With so much Lego out there (add to this short films, books on fan creations, working fan-made rollercoasters!), it's a bit surprising that the official story of Lego has never been told. Until now.
Beyond the Brick: A Lego Brickumentary, from award-winning documentarians Daniel Junge and Kief Davidson with narration by Jason Bateman, is the first company-endorsed film looking at the origins and the larger ecosystem that exists around the interlocking world of Lego.
Premiering at the Tribeca Film Festival (with screenings running through until April 26), the doc starts where you'd expect—inside the 73-year-old Danish company. From there it mushrooms out to include the AFOL (short for Adult Fans of Lego) community, including a look at fan convention Brickworld, and beyond, to the toy's surprising therapeutic applications, such as its successful use in helping with people with autism.
"The idea we started with was to tell the inside Lego story, inside the company itself and with the conceit that this is a toy that's played with by children for generations. From there our only challenge was to continually surprise the audience," says Junge. "Hopefully by the end of the film people are asking questions about things like human creativity and why we use tools and why a system is good for enabling human creativity."

It was this broad approach that won the filmmakers Lego's official endorsement to create the consummate film about the company and its community. "I think Lego responded well to the idea of us not just focusing on the corporation and its history but also the fans, the people that love it so much," says Davidson. He says this open exploration led them to find some fantastic stories of people within the Lego builder community and well beyond. "I was personally really interested in the fact that Lego can be used as a therapeutic tool for autistic kids. It can also be used with a person for fine and gross motor skills to strengthen their hands. Or some of the ways it's being used in architecture and city planning as a visualization tool was fascinating to us."
"It seems like every time we chanced upon the ultimate expression of what this so-called toy is being used for we'd find something else," adds Junge. "In many ways our challenge with this film was to know when to stop."
It's this broader context of the Lego universe that the film equates with the company's recent dominance. With the construction toy experiencing such a high profile, it's hard to recall that Lego was in a bleak place in the late '90s and early 2000s. "There's a portion of the film that talks about how the community ultimately changed the Lego corporation," says Davidson, citing Mindstorms—the company's robotics initiative with MIT that was launched in 1999, which was improved by the community—as a pivotal moment for Lego.
"It took Lego a while to figure it out and embrace this community and the ideas coming from them," adds Junge. "They readily admit part of what caused them to nearly hit dire straits was their own arrogance. It was interesting to see how it took them a while to realize that maybe they're not the smartest people in the room."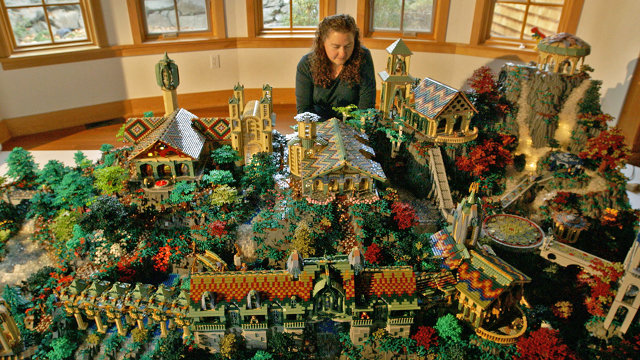 Aside from the company's history and its embrace of the community surrounding it, part of what the film taps into—and what makes Lego such an enduring toy—is the nostalgia. One could argue that Lego's resurgence is owed, in part, to the fact that kids from Lego's heyday in the '70s and '80s now have kids of their own, many of whom still have boxes of bricks, and they're now rediscovering it through the eyes of their children.

"What's Lego has done for a lot of people is tap into something that's been dormant for a while," says Davidson, whose voice over the phone competes with the sound of the two directors rifling through bricks as they're building while they talk. "As humans we the desire to build but you get distracted by everyday things in life. I know a lot of parents that discovered this tool later in life. It's not something that went away, it's just something we haven't made the time for. I think it's fascinating that an adult could come back to a toy like this."