As Nebraska gathers Oscar momentum, director Alexander Payne has been garnering most of the attention for coaxing a peak performance from star Bruce Dern. But behind every auteur stands a legion of collaborators laboring to make everything gel on screen. As Payne's longtime casting director John Jackson explains, "Part of Alexander's genius is that he picks people who support his vision and then he gets out of their way. He reminds you, if necessary, what the ultimate goal is. He does not micro-manage."
Three behind-the-scenes talents talk about how they helped Payne build Nebraska's evocative portrait of prairie folk from the ground up.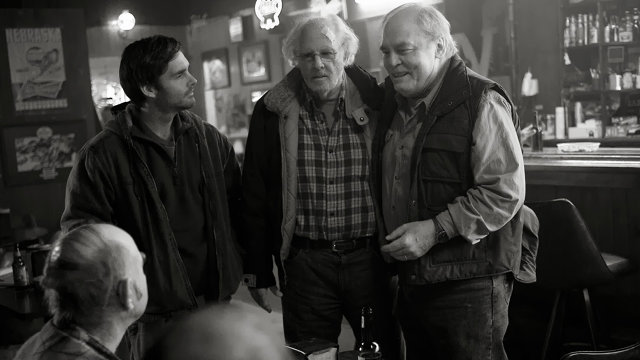 In Nebraska cranky Woody Grant (Dern) takes a road trip with his son (Will Forte) to claim prize money promised in a piece of bogus junk mail. Bob Nelson, Seattle TV comedy writer-performer, got the idea for what would become his first screenplay after a news item caught his attention. "I read in some obscure little newspaper about people who actually traveled cross country and showed up at these sweepstakes office, which were usually either in Florida or in the Midwest. That stuck in my head."
Nelson's own father, a Nebraska mechanic, inspired Woody Grant. "When it got time to write a screenplay, I started thinking about my own dad and the problems he may have had that he never even talked about. And then the drinking. If you're a son or daughter, how you deal with that? And then coming from a Midwesterner background where you don't express your feelings freely, all of that helped inform the character."
Nelson wrote 50 drafts of Nebraska before he handed it over in 2003 to producer Julie M. Thompson, whom he met when both worked on the Bill Nye the Science Guy show. She gave it to producer Ron Yerxa and Albert Berger, who in turn passed the screenplay on to Payne.
After winning two Academy Awards for co-writing Sideways and The Descendants, Payne made his own revisions to Nelson's screenplay. "It was up to Alexander at that point to mold the script and make sure every line felt real and authentic" recalls Nelson. "I was more than willing to have him turn it into an Alexander Payne film."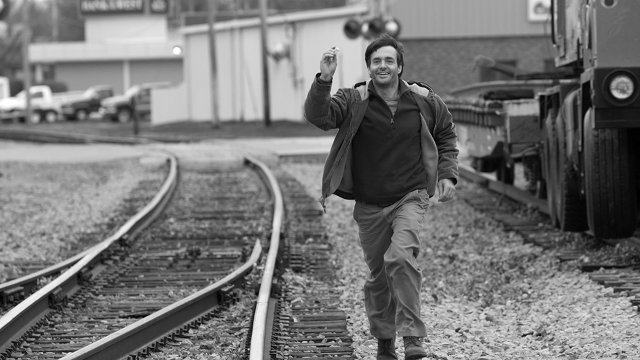 "I'm like one of those crazy old prospectors panning for gold," says Nebraska casting director John Jackson. "You sift through a lot of stuff to find that one nugget." Jackson struck gold on multiple fronts with Nebraska, his fifth Alexander Payne project.
When he first read Nelson's Nebraska script in 2003, Jackson pictured Paul Newman as the lead five years before the actor died. But from the get-go, Payne had Dern in mind. To make sure they had the right guy, Jackson and Payne conducted a nationwide search that included unknown regional actors, Hollywood stars and down-to-the-wire candidate Gene Hackman. "The talent pool is enormous but once you ask yourself specific questions—Who do I believe ended up in wherever the hell it was in Montana, living this blue collar existence, hand to mouth, raising his boys—that enormity becomes narrower and narrower to the point where you're literally looking at two people," says Jackson. "You say it's either this one or that one."
Jackson backed Will Forte as Woody's son David on the strength of a self-taped audition sent in by the Saturday Night Live star. Jackson says, "I believe strongly that if you can do comedy you can do anything. Will and his girlfriend made a video tape of this scene with Woody in the bar. It was so perfect if he had shot it in front of a green screen we literally could have cut it into the film. It was that good."
To populate Nebraska with convincing secondary characters, Jackson hired authentic-looking talent any time, any place. He cast the child who plays a small town newspaper photographer on the recommendation of a waitress. "I'm in this restaurant and she says 'Oh you're one of the movie people? You should meet my friend's son, he's so adorable.' I handed her my card and said 'Do it. Make it happen.' I continually asked myself: Do I believe I would find this person in a small town in Nebraska? Because if the answer is 'No,' then I don't want them there. It's really that simple."
Cinematographer Phedon Papamichael jumped straight from The Descendants' sunny Hawaiian hues into Nebraska's black and white prairie land after immersing himself in '40s film noir thrillers and '50s Italian Neo-Realism as well as Peter Bogdanovich's 1971 neo-western The Last Picture Show. "To find the particular look of black and white that was right for the film," Papamichael says, "We did lots and lots of testing." The outcome: digital video. "It's a high-contrast look that sets the mood and supports the human comedy."
Papamichael used anamorphic lenses to craft wide-screen CinemaScope compositions within a broad rectangular frame. He explains, "Those lenses lend themselves to the vastness of the landscape, the power of the sky, the texture of the fields. It captures the feeling you get in these Midwestern communities."
During post-production, Nebraska editor Kevin Tent added a layer of authentic film grain to mimic the imperfect textures of old-fashioned 35-millimeter celluloid. Papamichael says, "Some of my favorite scenes came in these little moments when the black and white works with the texture in Bruce Dern's face to capture all these subtleties in his performance."