You will have to visit a dealership for a whiff of that intoxicating new car smell, but you can build your dream car, take a few friends on a virtual test-drive and even consult with a salesman online through Toyota Collaborator.
Toyota and its advertising agency Saatchi & Saatchi LA collaborated with Google and employed Joystick Interactive to build the social shopping app being demoed at the Google I/O conference this week.
"A car configurator is something every car company has, but this is really the first truly social and truly multiuser collaborative car configurator we've ever seen," says Saatchi creative director Dylan Schwartz.
The Toyota Collaborator allows car shoppers to get immediate input on their potential purchase by inviting family and friends to a Google+ Hangout interactive video chat. Up to 10 people can attend, and five can actively take part in designing a vehicle—choosing paint colors and features—in real time.
"The beauty of this is everyone is seeing the same screen," Schwartz says. "They're all sharing the same environment, so when I change the color, you'll see that change reflected. If one of my friends spins the car around, I'll see that as well."
While clicks are required to activate most of the Toyota Collaborator's functions, the interior view of the car will shift left or right, depending on the tracking of eye movements. "It's the little touches like this that make the experience feel special and fun to play with," Schwartz says.
Once you finalize the design of your car, it can be saved and shared via Google+, Facebook, and other social media outlets.
You can also take a virtual test-drive and see how your new ride looks cruising through your neighborhood or whatever location you would like by entering the coordinates into Google Maps with Street View.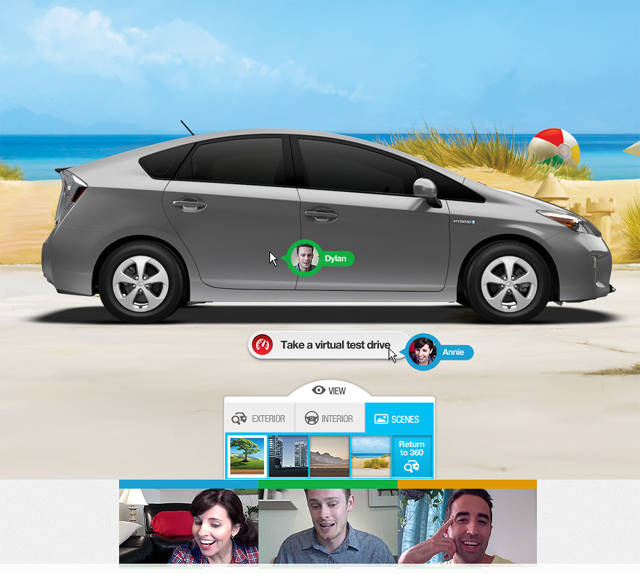 And if you still have questions after consulting with your trusted advisors and taking a virtual test-ride, a "Talk to an expert" feature can bring a salesperson from a local dealership into your Hangout for a face-to-face conversation. "The thinking here is: No matter how smart your friends might be, there might be things they don't know; so let's give you the opportunity to connect to a local Toyota dealer. You can bring a Toyota dealer into this experience and start interfacing and building rapport, and when you're ready to take that next step, you're already familiar with them, and you have a relationship with them," Schwartz says. "It bridges the gap between online shopping and going to a dealer."
Dealers are excited about the Toyota Collaborator, according to Kimberley Gardiner, Toyota's director, digital marketing strategy. In fact, those who have seen a preview of the experience have asked if they can be part of the pilot program—Toyota Collaborator will be tested for a few months before a broader rollout. "The dealers are looking for more authentic opportunities to connect with customers before they get to the showroom because they realize the car-buying process starts well before customers come in," Gardiner says, "and they want to help guide people's decisions."