HBO's newest show isn't sexy. It doesn't feature ready catchphrases about whether you can or can't be half a gangster. It's a thorny, intense, and vital documentary miniseries titled Witness, following photojournalists who spend their lives in some of the most dangerous, drug- and violence-ridden locales on earth.
More than two years in the making, the project from director David Frankham began with a self-funded excursion to Juarez, Mexico in 2010 (the finished product, a docu short shortlisted for the Academy Awards, now functions as Nov. 5's half-hour intro to the series; the remaining three episodes are an hour apiece). "I was fed up with the idea of people summing up the news in these 30-second bites being told by people who never were in these areas," Frankham tells Co.Create. "I didn't believe in it anymore; I thought they were very simplistic accounts or maybe not even honest accounts of what was going on in some of these conflicts."
Frankham, who's made a career of directing ads for companies like Sony, Adidas, Volkswagen, and ESPN through production company Smuggler, was familiar with several photojournalists who had diverse stories to tell. They also happened to be compelling characters. "The idea was to explore their stories, their struggle, what they go through to get to the pictures," Frankham says. "These photos don't just happen in front of them—there's a journey and a lot of devotion. Everything's put on the line to get to these images."
Frankham knew it wouldn't be feasible to comprehensively sum up conflicts as large as nationwide drug wars, so he opted to examine the conflicts from an experiential vantage point. "I believed that we could get to another layer of the truth of the story, from a ground-level, first-person point-of-view," he says. The episodes never stray from that focused conceit, following the photographers Eros Hoagland in Juarez and Rio de Janeiro, Veronique de Viguerie in South Sudan, and Michael Christopher Brown in Libya (the latter is the only episode not helmed by Frankham; documentarian Abdallah Omeish directed). A five-person crew spent two weeks filming in Mexico and 30 days on the ground in the other three countries.
When veteran director Michael Mann (Heat, The Insider, Miami Vice, HBO's ill-fated Luck) saw the completed Juarez project, he became a champion first and a producer and partner shortly after. HBO came onboard as well. "I think they were incredibly brave in the way they allowed us to attack this and the way they supported us," Frankham says of the network.
Part of HBO's courage came in endorsing a series that features very few tidy happy endings; this isn't the series that'll be blowing up Tumblr with fun new GIFs the morning after. "The thing that you can feel good about is that these photographers are committing their lives to try and make it difficult for people to behave badly like this, for these conflicts to go on unchecked," Frankham says. "When I was on the ground with them, that was one of the only things I would walk away with after a month: All right, maybe someone will see this. Maybe this will get to be too big of a deal for people to act in this way. But that maybe's enough to sustain me, and it sustains a lot of photographers and journalists that I find very brave and really respect."
Speaking on the documentarian's tricky process of applying storytelling skills to a real-world situation, Frankham says it's imperative not to force the project in one creative direction early on. "You can miss things and you can also create something that isn't the true representation of what's going on," he says. Filming becomes a mix of improvisational emphasis and recognizing key events as they're happening, then "making sure you go as far as you can with them, whether it's a conflict moment or an interview moment."
Distilling between 200 and 250 hours of footage for each 30-day period, finding all the critical moments, and spinning a narrative was immensely challenging. "We wanted to portray it as honestly as we felt it. The edit is huge, being true to the things that you witnessed," Frankham says. "And at the same time, we're making something that is also dramatic and breaking some traditional documentary rules." He turned to the photographers themselves to ensure that rough cuts felt sincere, not sensationalized or heightened.
The dangers of becoming desensitized to war's horrors and potentially exploiting victims' pain don't go ignored by Frankham's subjects. An archival quote from Eros Hoagland's father—also a conflict photographer, killed in El Salvador in 1984—contends that the camera's lens can facilitate a void between the human and the inhumanity he's witnessing. But being "at the very moment of these human tragedies" is never easy, Frankham says, no matter how pronounced the disconnect threatens to become. "There's a lot of situations where you're constantly asking yourself and checking yourself and then having to commit," he says. It's a struggle he finds "fascinating, endless, and often life or death."
While Witness is far from a puff piece unreservedly exalting the men and women who throw themselves and their digital SLRs into warzones in the name of truth, there's an undeniable level of respect in both the project and Frankham's words. "Seeing people killed, seeing people brutally injured—that is very tough. To do that day in and day out, week in and week out, you have to have such a strong sense of your work and your duty and responsibility, to be kind of a vessel," Frankham says. "They take on a lot. But they've all made a decision that it's worth it to do what they do, and to try and put a light on things."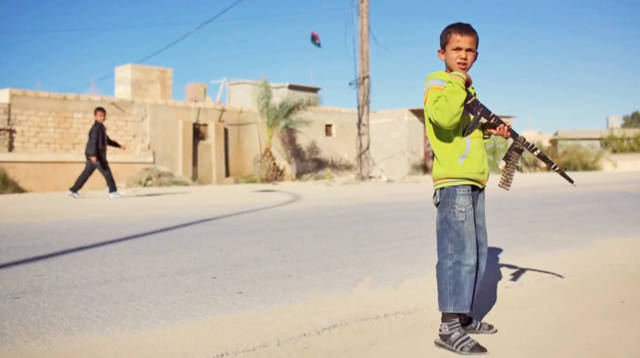 Shining that light causes its own conflicts, often of a personal variety. In Juarez, a man chastises Hoagland in subtitled Spanish: "Respect the pain, my friend. Would you like your kids to be killed also? And then we would be filming it?"
"These aren't easy decisions, when it's right to take a picture and when it's not," Frankham says of that moment and others like it. "I think the photographers are all quite clear in how they look at themselves in the mirror and how they behave and document these things, and what's important and what's exploitative. They go home at night after witnessing very tough things and they weigh it. I've found them all to be very conscientious."
Following suit with the inherent complexity of Witness, Frankham doesn't have a gift-wrapped message he believes viewers will receive from watching. "I hope people come away with more questions than answers," he says. "Because we do, at the end of these shoots."